Guwahati, 09th January,2020 :
Associates with  Pradhan Mantri Kausal Vikas Yojana (PMKVY)and Construction Skill    Development Council to provide certified  construction courses 
To train more than 1000 nos. of Assistant Masons  across the North East  in 2020
Topcem Cement , a leading cement brand of North East India and Brikolite AAC Block , the introducer manufacturer of the AAC Blocks in North East India, under  a joint initiative launched  Recognition of Prior Learning (RPL) programme in the construction sector under  Pradhan Mantri Kausal Vikas Yojana (PMKVY), the flagship scheme of the Ministry of Skill Development & Entrepreneurship(MSDE), Government of India, at Topcem India Gauripur, Amingaon, in Kamrup district on 6th January, 2020. The purpose to promote this initiative of Ministry of Skill Development and Entrepreneurship (MSDE) is to discover and skill large uncertified talented workforce in the country.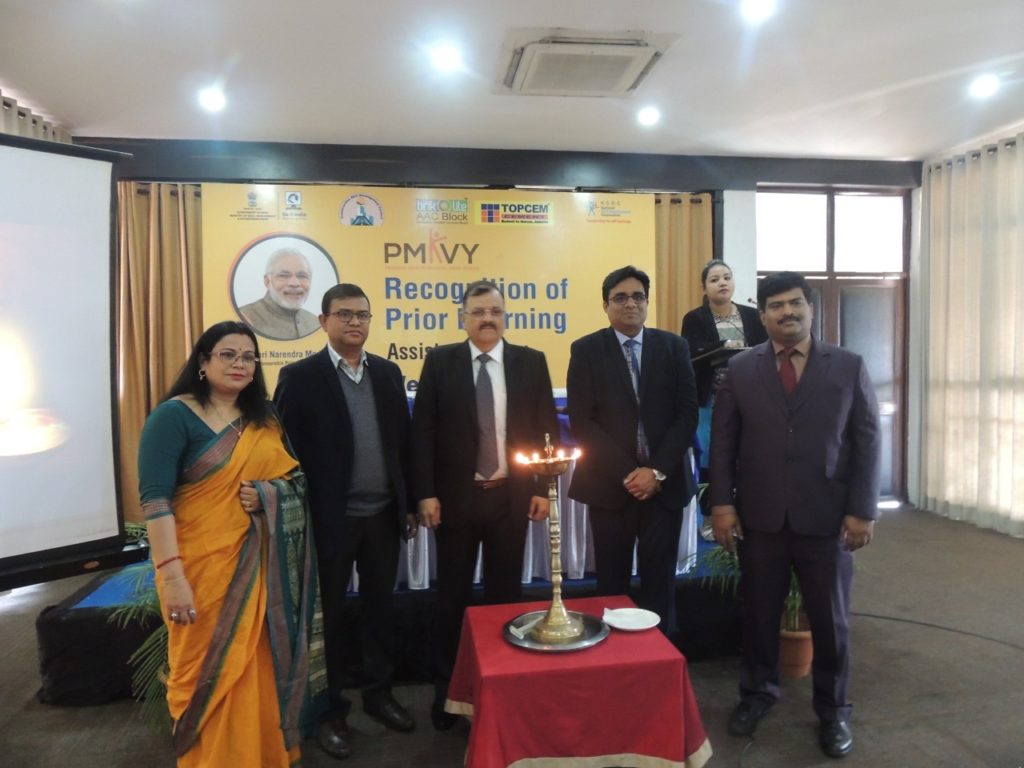 Through this initiative, Topcem Cement and Brikolite AAC Block in association with Construction Skill Development Council of India (CSDCI) through its authorized training partner, Ascensive Educare Private Ltd., will work towards empowering the youth with relevant skills in various construction trades to make them employable as part of Recognition of Prior Learning (RPL) Programme.
Commenting on  the initiative, Dr. Anil Kapur, President, Sales & Marketing. Meghalaya Cements Ltd. said " We have always taken up new initiatives in various areas. But this is for the first time we have associated with Brikolite AAC Block to provide this training to the assistant masons. This is going to provide these masons with more organized training and certification which in turn will give them more confidence and enhance their career in their field of work."    
Under its Corporate Social Responsibility (CSR) Topcem Cement and Brikolite AAC Block , will train more than 1000 nos. of Assistant  Masons  to hone their skills and thereby improve the quality of construction and productivity. This would not only make the helper masons competent to meet the growing market demand but also polish their skills and brings respect and faith to the community from IHB, builders and contractors.
Mr. Manoj Biyani, General Manager, K.D. Infra, said "Through this joint venture we have tried to promote best construction practices as brick laying masonry is an important part of a construction Industry."
The Inaugural and first batch of Recognition of Prior Learning programme  was attended by 34 assistant masons and experts from National Skill Development Council and Ascensive Educare Pvt. Ltd who conducted the sessions.
Recognition of Prior Learning (RPL) aims to align the competencies of the unregulated workforce of the country to National Skills Qualification Frameworks, which is a competency based framework that organizes the qualifications according to a series of levels of knowledge, skills and aptitudes. RPL is a platform to provide recognition to the informal learning or learning through work to get equal acceptance as the formal levels of education.
The programme aims to impart skill training for existing works to align the competencies of the unregulated workforce to the NSQF under PMKVY. RPL focuses on enhancing the careers/employability oppurtunities of an individual as well as provide alternative routes to higher education. It also envisages to provide oppurtunities for reducing inequalities based on privileging certain forms of knowledge over others. It is the process of assessment of individual's prior learning to give due importance to learning as an outcome rather than learning as process.
For Media contact :
Miss.Munmuni Mili : 985407O773
Mr.Manash Kr. Sharma : 9854076581