Topcem Cement, a product of Meghalaya Cements Ltd, is among the leading cement manufacturers in entire NE India. Product quality, customer satisfaction and timely delivery have been the cornerstone of Topcem's brand identity. The company is currently making a foray into the eastern markets of West Bengal and Bihar with the same commitment to provide superior quality product and customer service.
An ISO 9001:2015 certified company, Topcem Cement has firmly established its reputation as a manufacturer of premium grade cement among the masses.
The State of the art facility of Meghalaya Cements Ltd is located at Thangskai village, on NH 44 in East Jaintia Hills district of Meghalaya. It became operational in 2006 with a production capacity of 900 tons per day. Eventually, the production capacity was expanded to 2600 tons per day of clinkerization and 4600 tons per day of cement with the installment of its new grinding unit named TOPCEM INDIA at Amingaon, in Guwahati, Assam in the year 2011. To ensure an uninterrupted power supply, it also owns a dedicated 10 MW captive power plant.
Topcem Cement is manufactured from the finest limestone available in India. Its plant employs world-class, advanced dry process rotary kiln technology with twin multistage pre-heaters, completely automated through DCS control system. Furthermore, the plants and facilities are periodically refurbished to keep up with changing times and meet international standards.
Topcem strongly believes in evolving with time and invests heavily in research and development. As a result of its extensive in-house R&D, Topcem Cement successfully launched Topcem Solid Dhalai Cement (SDC) – a superior strength, anti-corrosive and innovative product in the year 2020.
The company is committed to building a robust society. Over the years, its philanthropic endeavors like – organizing Free Eye Check-Up Camps, Blood Camps, Sapling Plantation, Rongali Bihu Celebration with various institutions like Old Age Homes and Children Care Centres, Sponsoring Cleft Lift Correctional Surgery for Children, and Dispersal of Health Aid have largely benefited the local populace of Assam and Meghalaya.
As a distinguished company and prominent cement manufacturer, Topcem aspires to fulfill its goals in a sustainable manner for all its stakeholders. Specific environmental responsibilities are assigned to trained experts to ensure strict adherence to environmental norms laid down by central and state governments.
Topcem thrives to deliver innovative products through sustainable practices. It ensures that the esteemed clients of MCL get factory fresh, top-quality cement that offers unmatched strength and extraordinary durability.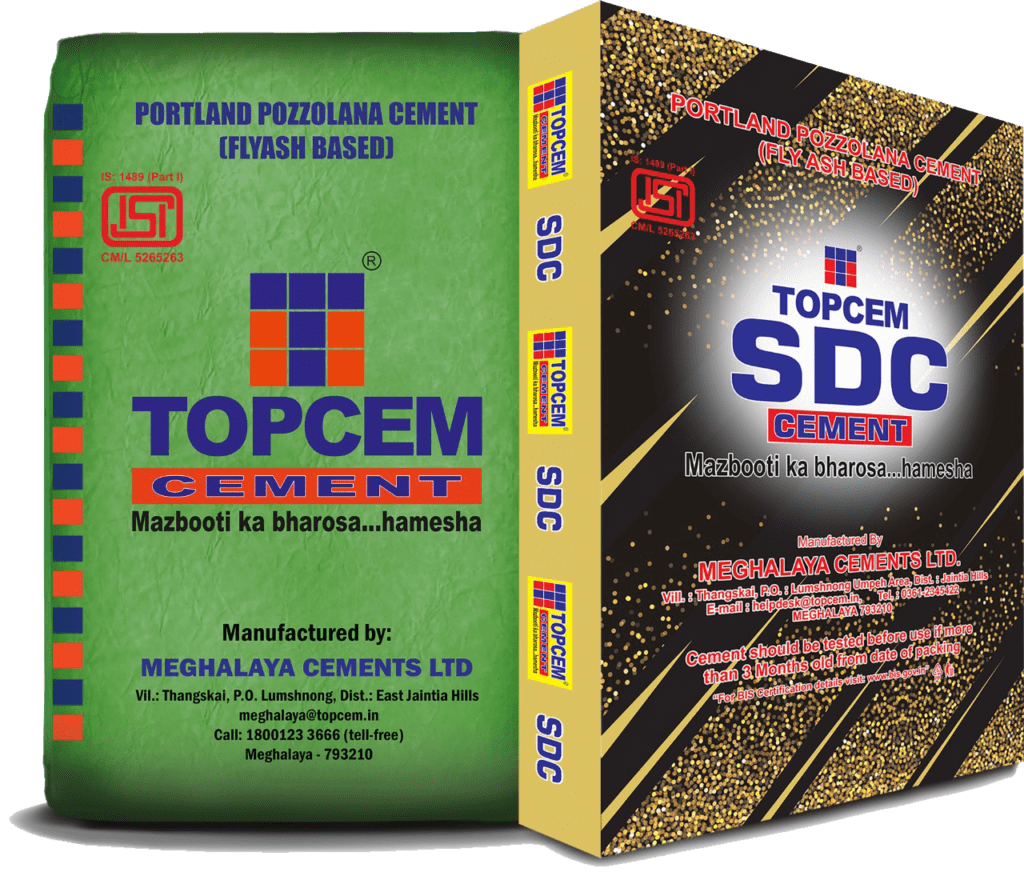 PLANT INAUGURATION - 2006